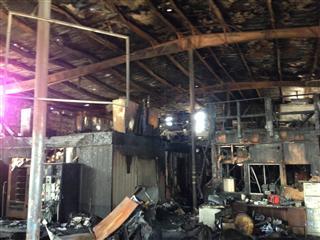 It started with a fire! Bright orange flames burst from the windows and dark smoke rises into the late October sky. The smoke can be seen from miles away. While far away to the east a cruel wind begins to howl and the rain pours down as a Super storm part hurricane part Nor'easter plows into the most densely populated areas in the country. And then to top it all off an Earthquake rattles the dishes and windows crack and glass shatters and falls to the ground.

Is it a promo for the latest block buster movie promulgating the Armageddon that is premiering next weekend? No it was the real life calamities that our clients and ourselves were forced to endure in the last few weeks.

Was your software company prepared to help?

It's Sunday afternoon at 1:29pm and the Fire Marshall is standing in front of the Corporate Headquarters of Kennedy Wire Rope and Sling of Corpus Christi Texas watching as the flames jump from the windows. That was the sight as our clients watched their building burn to the ground. As they surveyed the damage and realized the loss of all their computer equipment they began to think about getting back to business. Imagine what must have been going through their minds…

Garland Kennedy Jr. recalls, "October 2007 Kathy Thomas and Marshall Campbell made a sales call at Kennedy Wire Rope & Sling trying to sell DCS software package. Kennedy's history with folks trying to sell their software packages was less than desirable. It seems everyone had one, and everyone had the best in the market. That never seemed to be the case. So, we sat and listened and it pretty much was the same spiel we have heard over and over. I was thinking to myself 'of course yours is the best and of course your service is the best …blah blah blah.' It was the same song and dance we have heard over and over. Just before Kathy and Marshall came to visit, we hired a new salesperson that was familiar with DCS software. That was a real plus to think that if we went with DCS we had someone here that could help us figure which button did what. Well we were pretty desperate for a software package that we could (use to help us) run our company. I had just one question before we 'pulled the trigger on DCS'……..what about service. I mean everyone says they will but I want to know 'are you blowing smoke at me or are you guys really there when we need you.' They said yes as I would have expected. I added all the pluses together and said 'let's do this'. We signed on board and things went pretty much as planned. We were very happy with the program and service was great so we felt like we had made a good decision.

I am sure by now everyone has heard that Kennedy Wire Rope and Sling experienced a fire early October and our main office was completely destroyed. We lost phones, computers and even a place to sit down. We were pretty much shut down. Our first chore was to get phones and computers up. We contacted Marshall and asked 'what do we do to get going?' He said 'give me a few and I will call you back.' Within an hour he had a game plan. Within 8 hours Marshall had a server at his location (DCS) ready for our back up data off the old server. Within 20 hours we had a guy with our back-up sitting at the remote DCS location. Within 24 hours our new computers were connecting to his server with our software. In fact, we were back online faster than we could get phone service. I know every situation is different but I can say that when we needed help DCS delivered. Three weeks later, as this is written, the East Coast was slammed by Sandy. We at Kennedy Wire Rope and Sling know about Hurricanes. Again, the DCS service was being tested. Marshall and all managed the event and delivered despite power interruptions, down trees, and flooding. We wish all in the Northeast well and speedy return to normalcy. We know what Hurricanes do to the normal flow. The test of any company is the ability to respond to adversity. DCS enabled Kennedy Wire Rope and Sling to respond to our customers. Nothing more needs to be said."

We at DCS understand the effects that an interruption of business can have on the continuity and viability of a service oriented business. In fact, we had taken steps to mitigate any possible interruptions of our business over the course of the last year. We have changed our operating structure to allow for multiple business environments. We have taken advantage of fast communication systems and, when the need arises, we can operate in a virtual office environment. By taking advantage of "Cloud Based" data storage and the use of multiple computing hubs we are able to run our business from our homes or in small group locations for a single day or many months. Structuring our business model this way has given us flexibility and the security to know that we are prepared to provide uninterrupted support and service to all of our clients.

We were prepared when the Eye of Super Storm Sandy rolled over our offices and homes. On Monday morning we immediately switched our structure to our virtual office structure and allowed our employees to stay in their homes during this difficult period. Even though many of our employees did lose power to their home and were without power for an extended period of time, our servers never went down and we were able to provide support for all of our clients from remote locations.

When we were able to return to the office we were stunned to see how close we had come to being a victim of the storm ourselves. The tall beautiful oak tree that stood in front of our building was down across the lawn. Upon closer inspection we noticed that the top of the branches pushed against the power and phone lines connected to our building. We were only inches away from losing power and phones. Fortunately other than the need to replace the shingles on the roof and the gutters that run the length of the front of the building we suffered no serious damage.

We understand that many people view software only as a business tool. Used as such software can help you manage the overwhelming confluence of data required to operate any business. However we have never believed that software alone can provide you with a better way to run your business. DCS has been in attendance at every AWRF meeting since we became a member in 1989 and has attended every general session because we believe that the information that can be gathered from these meetings does provide your industry with best practices. We would not do this if we did not believe that we are more than just a software company! We are committed to being a strategic partner with each of our clients. We provide software to manage your data and consulting to help you take advantage of the best practices within your industry. We believe that 20+ years of experience in your industry gives us a unique perspective into the operation of a Lifting and Load Securement Company.